Smoke and Dry Ice effects are generally used to create more atmosphere – either for stage productions, parties or film and television use. We have machines for a wide range of applications. The smallest machine available for indoor use is the Goblin, which is so small it fits in the palm of your hand.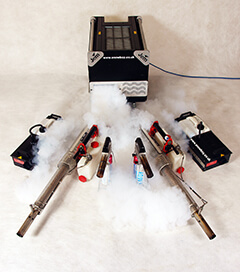 Our biggest, the petrol powered Bezzler, produces enough smoke to fill a power station cooling tower in a matter of minutes.
Floor hugging smoke is a popular effect that is usually created using Dry Ice. We can also create low smoke using our Jem Glaciator X-Stream to chill smoke as it goes through the machine to make it hug the floor. This is an effective way of creating low smoke without the expense of dry ice. Low smoke will only work indoors in a controlled environment.
Alternative methods of creating smoke effects include pyrotechnic smoke pots (which can be used indoors and outdoors), and Water Misters placed in water to create a low smoke effect – various sizes are available for hire.